We provide insurance across a broad range of marine from our platform at Lloyd's in London and through our operations in the US, Singapore and Australia. Our team is technically strong, experienced with an in-depth knowledge of vessels, cargo and ports. We have a dedicated in-house marine claims team that works closely with our underwriting teams, offering you seamless claims support.
We provide insurance solutions
We take pride in the levels of service and technical expertise we offer and our ability to underwrite complex business to meet the needs of our clients.
What sets Canopius apart?
A technically strong and experienced underwriting team with a broad and commercially minded approach
Our team are empowered and authorised to make decisions
In-depth knowledge on vessels, cargo and ports
An excellent in-house claims team
High levels of service and ease of doing business
Both standard and tailored options, offering the best insurance solutions for our clients
Access to Lloyd's worldwide global reach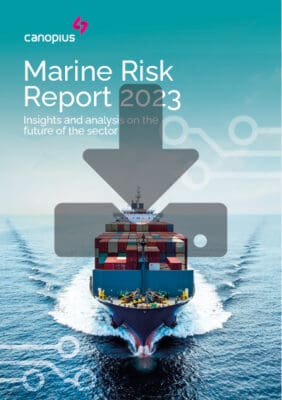 Marine Risk Report
Our Marine Risk Report 2023 provides a better understanding of the marine market as a whole and its evolving risks. The data collected was analysed to identify trends, pain points and potential gaps in insurance coverage. As we seek to mitigate the risks which our clients face, providing them with new solutions, better risk understanding and the financial support to test the new technologies which will underpin their efforts to affect their transition. By sharing insights and challenging views we can be better partners.
Click HERE to download our 2023 Marine Risk Report
OUR WORLD-WIDE MARINE INSURANCE SERVICES
FAQs
What is marine insurance?
Marine insurance is a type of coverage specifically designed to cater to the loss or damage of ships, cargo, terminals, and any transport by which goods are transferred, acquired, or held between the points of origin and final destination.
What does marine insurance cover?
Marine insurance typically covers a range of incidents and risks including the loss or damage of cargo, ships, and other marine property during shipments, whether by sea or inland waterways, and may also extend to cover land and air logistics.
What types of marine insurance does Canopius offer?
Canopius offers a comprehensive suite of marine insurance policies, including but not limited to Cargo Insurance, Hull & Machinery Insurance, Marine Liability Insurance, and Marine War Risk Insurance, each tailored to meet the specific needs of maritime commerce and shipping ventures.